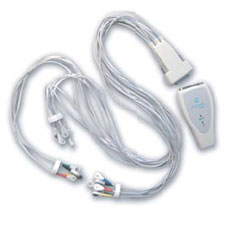 ECG Cardialys©
Cardialys© is a portable ECG machine capable of acquiring the 12 standard leads and further leads: V7, V8, V9, V3R, V4R and VE, to obtain a 15 or 18-lead ECG on the same number of tracings.
A product of French technology, it is the very first ECG of its kind. In particular, it makes it possible to view and analyse zones of the heart not examined by a 12-lead machine.
Cardialys© is equipped with wired electrodes connected to a portable Bluetooth wireless transmission unit.
Cardialys© produces a digital ECG combining trace precision (15 to 18 leads) and a smaller digital size. The ECG is viewed on screen with all the leads prior to validation and recording when the tracings have stabilised. The trace is easy to print, archive and incorporate in the hospital or clinic network.