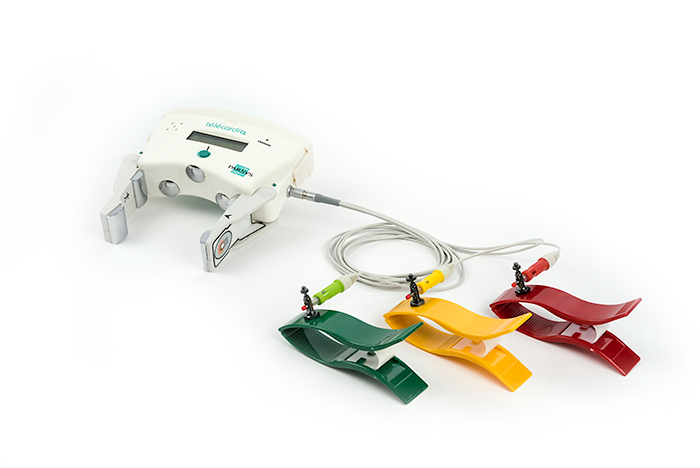 Telecardia : Making ECG as simple as taking blood pressure
This device, patented by Parsys, allows healthcare professionals to quickly acquire and transmit a patient's electrocardiogram without the constraints of a conventional device. Telecardia is portable, compact and lightweight, with fixed thoracic electrodes, without consumables.

RAPIDITY OF TRANSMISSION
Acquisition in 15 seconds, automatic transmission

COMFORT IN USE
Digital display, long life Lithium battery

EASE OF USE
No disposable electrodes, little wired connectivity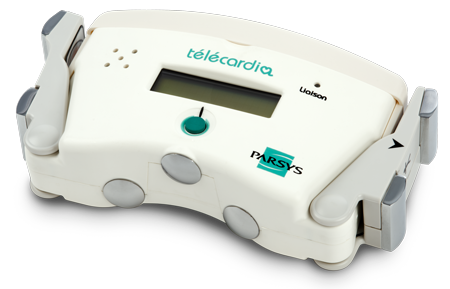 General characteristics
12-channel Electrocardiograph (ECG) device for temporary use
Medical power adapter 5V DC
Internal Lithium Polymer rechargeable battery – 3.7V / 3000 mAh
Mechanical characteristics
IP22 for the ECG
IP 21 for the rechargeable base
On housing and deployable arms: VN – V1 – V2 – V3 – V4 – V5 – V6
Peripheral cord for limb forceps: R, L and F
Electrical characteristics (ECG)
D1, D2, D3, Avr, Avl, Avf, V1, V2, V3, V4, V5, V6
Measurement with internal electrodes, 9 simultaneous derivations
R, L, F, V1 – V2 – V3 – V4 – V5 – V6 compared to VN
Sensitivity of measurement
Ready to integrate telemedicine into your service?
Get in touch with our team